Rushcarts on old postcards
Lefton/ Lepton Rushcart, 1905


"in remberance of this day four years ago".
Postcard postally used from Uppermill on October 14, 1905.

1905
LEFTON/ LEPTON
<crown>
UPPERMILL
Droylsden Rushcart, 1907


Photograph by Plant's of 13, Market Street, Droylsden.

The poster on the side of the Rush Cart advertises a Garden Party in Droylsden on Saturday July 27 at which there will be entertainments including the xxxxxxx Morris Dancers.

Droylsden Rushcart Jockey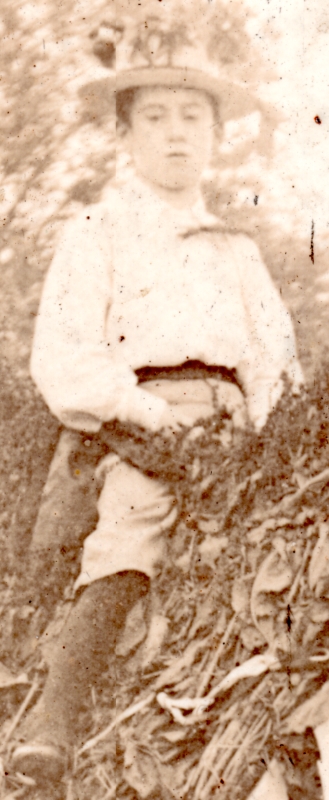 The costume appears similar to that worn by the boy Droylsden morris dancers in 1909 as seen in a photograph in the Manchester City Council Libraries, Manchester Local Image Collection. A copy is in the Manchester Morris Men's Archive.

Rushcart at High Crompton, Shaw, August 1907.


This rather battered postcard shows the rushcart outside the shop on the corner of Clegg Street some 20 yards or so back down the street from the next postcard. The horse pulling the rushcart is clearly visible which helps to make out the horse on the next postcard (which is obscured by the team of men pulling the rushcart).
The postcard is unused. The writing for the title matches that of the next. Whilst that is numbered "4" this is unnumbered.
Rushcart outside the Old Bulls Head at High Crompton, Shaw on August 17, 1907.


Postcard postally used from Shaw on August 21, 1907.
Greenfield Rushcart, 1918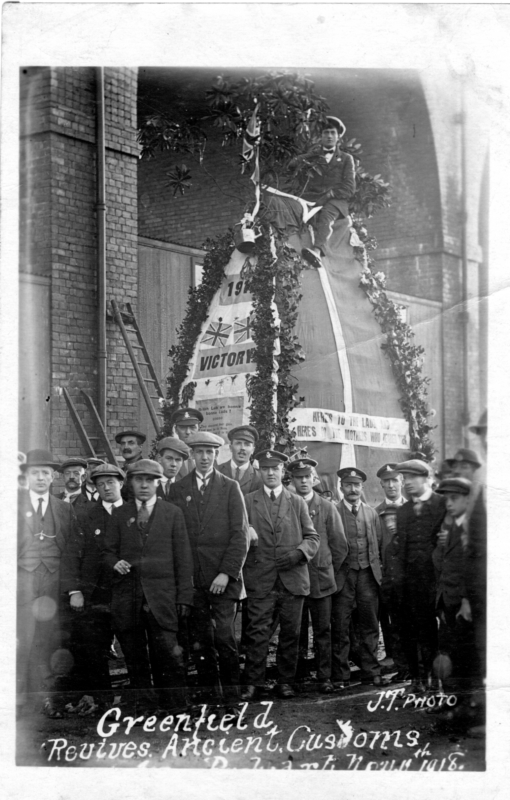 Greenfield Revives Ancient Customs ???? Rushcart Nov 11th 1918 J.T.Photo.
(The date is obscured and preparing a Victory rushcart on 11th November, 1918 would seem extremely prompt. Maybe the rushcart is later and the title just refers back to the armistice date).

1918
VICTORY

British Lads are bonnie
bonnie Lads!
******
They shoulder their guns
and ??? to the Huns
???????????????

HERE'S TO THE LADS AND
HERE'S TO THE MOTHERS WHO REARED THEM

a slightly cropped copy of this picture appears here with the handwritten title "Greenfield Armistice Rushcart 1918" but (as this is Facebook) there are no comments.